As we rapidly approach the end of what has quite frankly been a terrible year, I'm throwing my proverbial hat in the ring and giving you my round-up of the best and worst movies of 2016.
Whilst it might have felt like the world was ending in the relentless stream of bad news that 2016 has brought us, it has actually been a pretty damn good year for movies!
Just a bit of house-keeping before we get started; my list is based on UK release dates, so yes there are a couple of films which those across the pond might've had in their 2015 lists. Also, I was at one stage threatening to include the 2017 releases that I have already been fortunate enough to see (La La Land, Free Fire, Lion, A Monster Calls) in this list, but I thought better of it as I realise the majority wouldn't have seen these, and their UK release dates are all in 2017 based on IMDb. Rest assured though, one of the aforementioned is already my #1 film of 2017, and it will not be moved!
I wrote all about the worst films of the year here, so check that out as well if you're after something a little more hate-filled!
The Best
20. Captain Fantastic
Full review here


More than a little Wes Anderson-esque, this kooky and effortlessly charming story of an unconventional Father and his children was a wonderful comedy/drama that gave us an excellent performance from Viggo Mortensen, plus a host of incredible child actor performances. It is touching, funny, different, and delightful! 
19. When Marnie Was There
Full review here


The UK release dates for Studio Ghibli films are always a little up the shoot, but despite having its Japanese release in 2014, When Marnie Was There was officially released in UK cinemas in 2016, so it is allowed to appear in this list! Anyway, I don't need to justify its inclusion, it is a Studio Ghibli film which pretty much guarantees me to like it, and it is absolutely glorious. Melancholic, ghostly, ethereal and startlingly grounded in reality compared to some of the more fantastical Ghibli movies, When Marnie Was There is easily able to stand amongst the Ghibli greats, and is one of the finest animated films of the year. 
18. Midnight Special
Full review here


As much a story about the unshakeable bond between a Father and Son as it is a gloriously stylish sci-fi, Jeff Nichols strikes gold once again in this dazzling and complex emotional narrative. It might not be the film you expect, and it wasn't a film which everyone immediately "got" straightaway, but it has to be applauded for doing something fresh and new, and the performance from the incomparable Michael Shannon is absolutely mesmerising. 
17. American Honey
Full review here


A film I was wholly skeptical about until I saw it, American Honey ended up being one of the most surprisingly wonderful films of the entire year. This sprawling and meandering coming of age tale should've felt weighed down by its hefty run-time, however it feels endlessly free-spirited, flowing, and nomadic in its scope and storytelling. A star in the making, Sasha Lane commands the screen, and Shia LaBeouf gives what is undoubtedly his best ever screen performance. American Honey is a sun-drenched slice of sheer perfection. 
16. Creed
Full review here


I barely expected this film to be good, let alone that it would appear in my favourite films of the year list! Breathing new life into a franchise which was looking like it was ready to throw in the towel, Michael B. Jordan as the son of Apollo Creed, delivers an absolute knock-out performance, in a film which has all the emotional punch required of a boxing movie, and then some. Creed will also serve to remind you what a powerhouse Stallone is, and he has some serious acting chops when he isn't larking about in Expendables movies. Technically, there are aspects of this film which are astounding as well, and the one-take fight sequence is absolutely breath-taking. 
15. The Revenant
Full review here


This is a film I have struggled to revisit ever since I saw it in the cinema, so it fell back a few places on this list, but it was single-handedly one of the most incredible cinema experiences I have ever had. It garnered all the awards attention it so rightly deserved, and is a truly stunning piece of work. Centred around the performance of a lifetime from Leonardo DiCaprio, The Revenant is a visually impressive, ambitious, and highly accomplished piece of cinema. I think I'm definitely ready to revisit this one again soon, and I hope it'll still blow my mind like it did way back in January! 
14. Hunt for the Wilderpeople
Full review here


Taika Waititi's off-beat and quirky style is perfectly suited to this utterly delightful New Zealand comedy about the unlikeliest of friends going on an adventure in the wild together. Old hat Sam Neill as Hector, and newcomer Julian Dennison as Ricky, are possibly my favourite onscreen duo of the entire year, and Hunt for the Wilderpeople is a pure delight from start to finish. Expertly skipping from moments of drama and emotion to outright hilarity and japes, it is a film which never relents, never tires, and never stops being wonderful. An absolute gem of a film! 
13. Hell or High Water
Full review here


A slow-burn, modern "western" is absolutely my bag of chips, and Hell or High Water proved to be one of the most surprisingly brilliant films of the year. With incredible performances from Chris Pine, Ben Foster, Jeff Bridges, and Gil Birmingham, an ambitious and purposeful script from Taylor Sheridan (who also wrote 2015's Sicario), and calm and measured direction from David Mackenzie, Hell or High Water is a lovingly crafted and wonderfully executed drama that I don't doubt will be even more impactful after repeated watches. Quite simply brilliant! 
12. The Nice Guys
Full review here


2016 was the year of slim pickings for comedy films, and there were some truly awful efforts! Thankfully Shane Black was here to save the day with the effortlessly witty, razor sharp, and super smart The Nice Guys. With a wonderful comedic performance from Ryan Gosling as well, The Nice Guys was maybe the only consistently funny, non-animated film I saw in the entire year, and quite frankly we all needed a laugh this year, so it was very easy to give it a space just outside of the top 10! 
11. 10 Cloverfield Lane
Full review here


Its ending may have proved divisive (I didn't mind it personally), but there's no denying that for the most part, 10 Cloverfield Lane is an affecting and masterfully crafted thriller, with a powerhouse, unhinged performance from the always excellent John Goodman. Focusing on just three characters, and mostly set in a single setting, 10 Cloverfield Lane is a tightly wound and relentlessly tense film, and yes it would have worked as a film without being tacked onto the "Clover-verse", but it does also open up plenty more opportunities for this universe to be explored, and based on this film, I couldn't be more excited to see what else it will offer. 
10. Nocturnal Animals
Full review here


Arguably the most gorgeous looking film of the year, director Tom Ford has created something so effortlessly beautiful and stunning in its uniqueness. With a story within a story, and an interpretation which is very much left to the audience, Nocturnal Animals is gorgeous and grotesque in equal measure, and is a totally unforgettable experience. It also boasts my favorite film score of the entire year, courtesy of Abel Korzeniowski, and incredible performances from Amy Adams and Jake Gyllenhaal, plus amazing support from Michael Shannon, and an unrecognisable Aaron Taylor-Johnson. It is a film which perhaps more than any I saw this year, had incredible sticking power; I simply could not stop thinking about this film and for a very good reason, it is AMAZING. 
9. Captain America: Civil War
Full review here

After Batman vs Superman and Suicide Squad proved to be rather on the disappointing side, Civil War was easily able to take the crown of the biggest and best superhero movies of the year. I might be very biased when it comes to Marvel movies, but I will also be the first to admit when they are terrible, but Civil War is as far away from terrible as possible. It doesn't quite top The Winter Soldier as my favourite Marvel movie, but it sure does come close. The airport scene is possibly the most enjoyable scene of the year, and the introduction to new characters such as Black Panther and Tom Holland's incarnation of Spider-Man, spells exciting things for the MCU going forward. Sometimes films just need to be a hell of a lot of fun, and boy was this a fun film to watch! 
8. Your Name
Full review here


Until I saw this utterly gorgeous film from Makoto Shinkai, it could very easily have been Ghibli's When Marnie Was There that took this spot. I'm a sucker for Japanese animation as many of you may be aware, and this film completely floored me! Visually compelling, with a unique and interesting take on the body-swap genre, Your Name managed to be both charming and devastating all at the same time. The ending will take your breath away, and it is impossible not to be swept away by this truly beautiful and wonderful film. 
7. Zootropolis
Full review here


A Disney animated film of the non-singing variety, Zootropolis (or Zootopia if you're across the pond), cemented itself as an instant Disney classic with a message of acceptance and tolerance that was more relevant in 2016 than perhaps it ever had been before. Paired with the adorable anthropomorphic characters we have come to associate with Disney, and incredible amounts of wit and wry observations, this is a film for all the family to enjoy, and I don't doubt that it will quite rightly be considered a classic in the very near future. 
6. Room
Full review here

I'm well-known for being a bit of a crier in films, but I'm not sure a film has ever, or will ever emotionally devastate me as much as Room did. It is undeniably a tough watch, but Room is also full of hope, plus it features the performance of a lifetime from Brie Larson, and an incredible, mature, and accomplished performance from its young star, Jacob Tremblay. Their relationship is so utterly believable that it gives the film even more credibility and it is impossible not to feel something when watching this absolutely amazing film. 
5. Kubo & the Two Strings
Full review here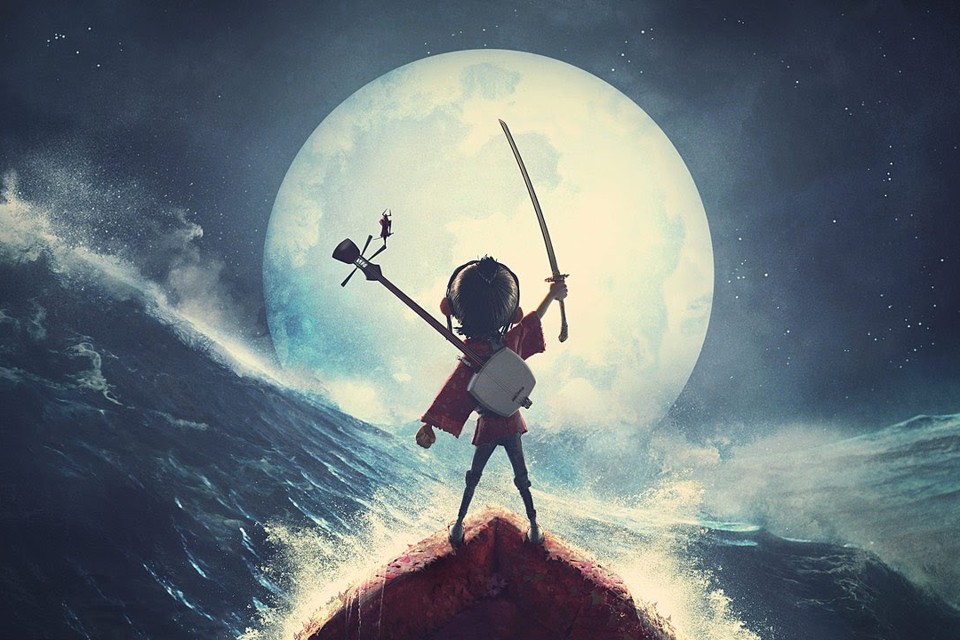 Competing against the big animation hitters of Dreamworks and Pixar, stop-motion studio Laika are quickly bringing themselves up into the big leagues, and Kubo & the Two Strings is the film which positively demands their right to be there. One of the most visually stunning films of the year, Kubo is animation perfection, which proves that stop-motion is still one of the most amazing art forms, when utilised this well. With a story that never dumbs itself down for a family audience, yet manages to remain accessible for all, Kubo covers such weighty themes as grief, memories, forgiveness, and touches on mental health issues, all with a strong focus on story-telling, and the power of stories to heal, delight, and change people. Still think this is a kids film? Maybe think again! 
4. Sing Street
Full review here


A film which had a criminally low distribution in UK cinemas, it was a film which relied heavily on positive word of mouth, and boy was this a film well worth telling people about. I am completely obsessed with this film! Since owning it on DVD, I have watched it at least once a week, and the soundtrack has become one of my biggest ear-worms of the year. The young cast are amazing, the songs are glorious, and you can't help but feel uplifted and charmed by this truly wonderful and understated film.  
3. Arrival
Full review here


I'm a real sucker for sci-fi, and particularly when it is one which chooses to break away from the norms of the genre to present something as wonderful and unique as Arrival. With the focus on language and communication as a weapon/tool rather than warfare, Arrival is a sci-fi film which never does the expected and will take you to a place beyond what you thought possible. Denis Villeneuve never ceases to amaze with his direction, and this film is as beautiful to look at as it is thought-provoking and intelligent. If there was ever an antidote to such woeful sci-fi offerings as Independence Day: Resurgence, then Arrival is it! 
2. Rogue One: A Star Wars Story
Full review here

Look, as long as they keep making amazing Star Wars movies, there is a high chance they will appear somewhere in my top films list of any given year, and 2016 is no different with Rogue One. I had unbelievably high expectations for this film, and not only did it deliver, but it helped to elevate the films which precede and follow it (timeline wise anyway!) by filling in an important gap in the storyline. Despite knowing the outcome, Rogue One proved to be exciting, absolutely stunning to look at, quintessentially "Star Wars", but yet also something which could easily stand alone. With enough little touches to truly excite fans, plus an ending which may very well be my favourite film ending of 2016, Rogue One has earned its place amongst the Star Wars greats! FINALLY a prequel we can be proud of. 
1. Spotlight
Full review here

There were many films which threatened the top spot over the course of the year, but absolutely nothing could compare to Spotlight for me. Treating its difficult subject matter with the utmost respect and care, Spotlight never shies away from the truth, but it also never veers too far into melodrama. It is subdued, restrained, and methodical in every aspect, with the writing, acting, soundtrack and direction all fitting within these boundaries perfectly. Spotlight is a perfectly made and perfectly executed film, telling an important and hard-hitting story, and proving that subtlety is just as impactful as moments of high-drama. It is a film which will stick with you for a very long time, and particularly the end credits, will leave a lasting impression that is true testament to just how incredible this film is. 
What were your best movies of 2016? Let me know in the comments below!