The countdown is on to the biggest event in the movie calendar, The 89th Academy Awards, aka The Oscars!
I've already run through my picks and predictions, and continuing the theme of talking everything Oscars, here is my ranking of this year's Best Picture nominees! 
Hacksaw Ridge
Read my full review here.
My feelings were weirdly mixed after seeing this film, I enjoyed and appreciated everything that it was doing, and could see that by general standards it would be considered a good or even great film. My boyfriend asked me if I enjoyed it afterwards and I responded with "I think so!". I'm not great with violence at the best of times, and having spent most of the really intense battle scenes hiding behind his shoulder, and memorably declaring "f**k this film!" in a particularly jumpy moment, I couldn't necessarily say that I enjoyed, but rather I appreciated this film. It isn't a bad film, at all, and I would be prepared to revisit it at home, but it was a little too intense for me when watching on the big screen, and out of all this year's nominees, it is the one I would be least keen to rewatch. Additionally I'd be lying if I said my well-known hatred for Mel Gibson didn't somewhat cloud my enjoyment of this film. The fact that many would be hailing his direction and painting this Hollywood redemption story made me feel a bit resentful of the whole thing, which is a shame really.
Hidden Figures
A film about some kick-ass ladies showing the male dominated world of NASA who is boss, should be a film that is right up my street, and on paper Hidden Figures should have guaranteed it a place much, much higher than this. I liked this film, but I didn't love it. Perhaps I had unreasonably high expectations and it does seem to be resonating a lot more with other people, but whilst enjoyable enough and with some good performances, I couldn't really place it any higher than this. In my opinion it should also be Janelle Monae or Taraji P. Henson getting the awards attention over Octavia Spencer; not to say that she does anything wrong but just that I connected more with Monae and Henson's stories. It's great to see perhaps a little known story getting some high profile attention, and I applaud this film for bringing an important story to the light.
Lion
Read my full review here.
I really enjoyed Lion, on the two occasions that I watched it, and whilst a little surprised to see it receiving so much awards attention, it is deserved for the most part. Were it not for the fact it is a true story, it would be slightly less remarkable, and yes it is a little "Oscar-baity" but that shouldn't take away from the fact that it is a really heart-warming and incredible story. Whilst Dev Patel and Nicole Kidman are flying the flag in the Supporting categories, the real star of the show is little Sunny Pawar who does a wonderful job of carrying the film for its first half. Perhaps it is time for the Academy to start honouring child performances, as in my opinion he gives the stand-out performance. Its emotional climax resonated with me as undoubtedly it will with many others, and whilst I can't see this being a film I watch over and over again, it is absolutely worth your time.  
Hell or High Water
Read my full review here.
A slow-burning, Western-style film is absolutely my cup of tea, and Hell or High Water was one of the real surprises of the year for me. A concise, measured plot with a purposeful and driving script courtesy of Taylor Sheridan, plus some exceptional performances from Jeff Bridges, and career-best performances from Ben Foster and Chris Pine make this film really stand out, and its modern take on a Western-style movie is wonderful to watch. I was so pleased to see this film nominated in this category as I had feared it might be a bit of a sleeper but fortunately in this case the Academy got it right and whilst it isn't really being considered in the conversation as a winner, it has rightly earned its place in what is a very strong list of nominees.
Fences
Read my full review here.
I was fortunate enough to see this a couple of months in advance at a preview event at the BFI, and have been raving about it ever since. In modern cinema there is so much focus on the visuals, the flair, the special effects, the experience of watching a film, and Fences is wholly refreshing for instead letting the dialogue entirely drive the story. It is just as thrilling and just as dramatic as an action-packed thriller, the dialogue and language of August Wilson's original play keeping you hanging on every single word. Many are criticising it for "not being cinematic enough" but I would actually applaud this film for boldly choosing to stick so rigidly to its staging and theatricality. Really, Fences was always going to be in a bit of a Catch 22 situation; had it decided to go for a more cinematic approach, there would undoubtedly have been those who criticised it for veering too far away from its stage roots. The performances of Fences have also rightfully been receiving lots of awards attention, and whilst a bet on Fences to win Best Picture might result in you being a little out of pocket, putting money on Viola Davis to win for Supporting Actress might just be one of the safest bets of the night! Her performance is nothing short of exceptional, emotionally devastating, and powerful. Fences might be "stagey", but when the story is this gripping, and the performances this great, who even cares?!
Manchester by the Sea
Read my full review here.
Similarly to Fences, the gorgeously melancholic Manchester by the Sea lets the screenplay do the talking, and its slightly understated approach might not sit well with everybody, but its quiet emotion is subtly devastating, heart-breaking and absolutely magnificent. Casey Affleck gives his best performance, deliberately subdued initially, but with a gradual emotional breakdown that is incredible to watch. Manchester by the Sea isn't at all showy, which so many Oscar nominated films can be, and whilst its performances are quite rightly being talked about a lot, it is perhaps a little bit of a sleeper in this category. In many ways, Manchester champions the mundanity of relationships and family whilst experiencing a grieving process, but rarely does the mundane look this wonderful. Manchester by the Sea is easily one of the best films out of the nominees and whilst not always the easiest of watches, it is also surprisingly uplifted and quietly heart-warming.
Arrival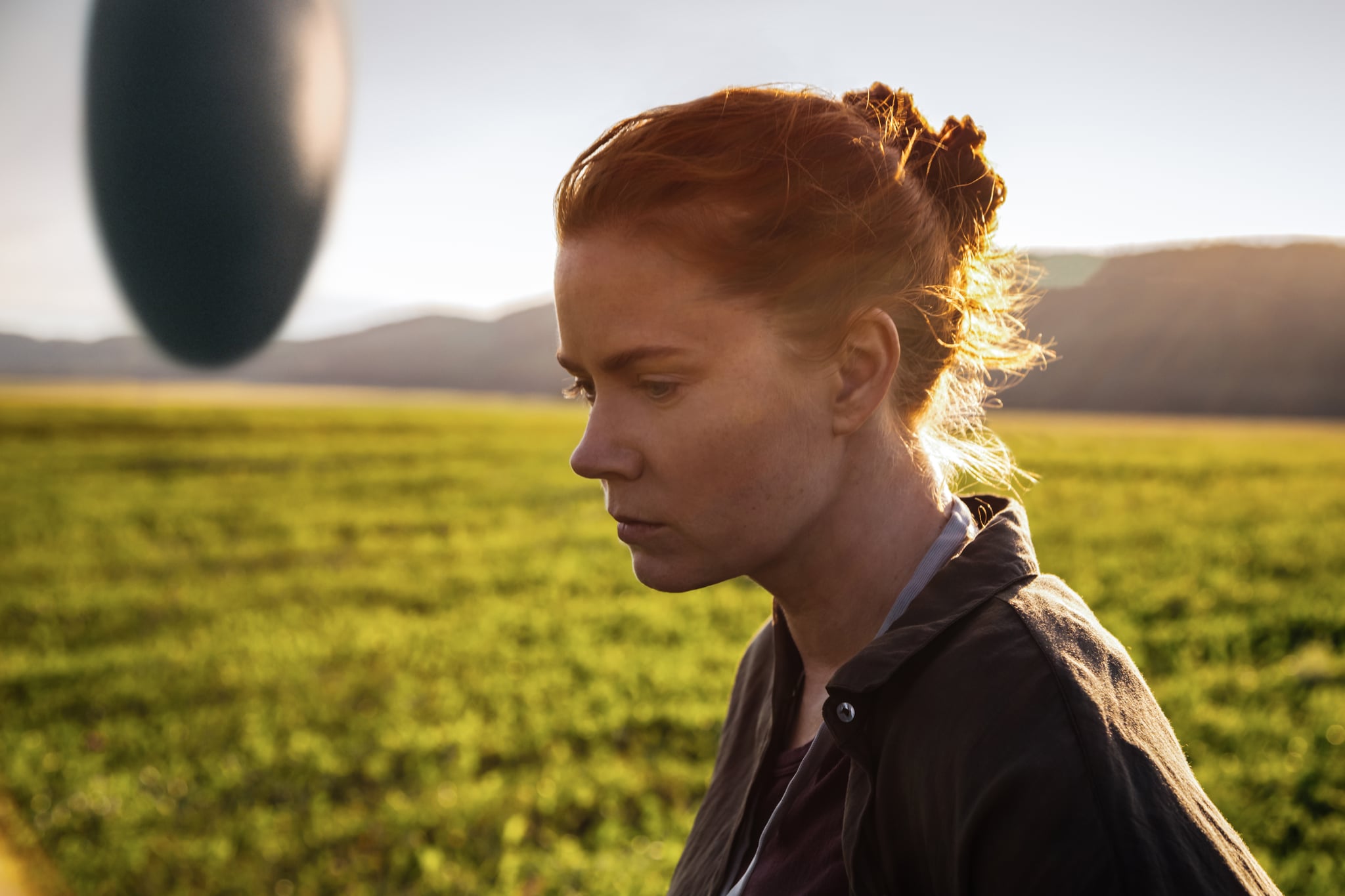 Read my full review here.
After seeing this film way back in October at London Film Festival, I was telling people that it was basically "like Interstellar but if that film was, you know…better!". Considering films such as 2001: A Space Odyssey in my all-time top 5, I have a real penchant for "thinking" sci-fi, something which provokes thought, questioning and conversation. Arrival delivered this and so, so much more. I had in mind the type of film Arrival might be, and it was absolutely nothing like the film I was expecting, but in the best possible way. Arrival is gorgeous, both in terms of its aesthetics, and also the message it delivers about understanding, communication, and the power of language. It is essentially a life-story drama but in a sci-fi context; the visuals of the aliens never disappointing, but this element very much taking a back seat in the grander scheme of the story. It would be a crime to spoil anything about this film as watching it unfold is part of what makes the experience so great. I will just mention that there is much merit to watching this a second time in the context of "knowing what you know" after the first watch; it is a completely different and wonderfully illuminating experience that truly elevates this film to be considered as one of the absolute best of the year.
Moonlight
Read my full review here.
Moonlight is a film I really struggle to talk about. I struggled before it came out to tell people what it was and what it was about, and even now having seen the film, I struggle to process my thoughts on it. Moonlight is a masterpiece, and I am not afraid to say this. It is a film which needs to be experience, and one which demands to be felt. It is breath-takingly beautiful, powerfully resonating, with a story that transcends far beyond the context in which it is set. I won't give that controversial review, which you've probably heard about, too much time here, but the fact that that writer considered this film would only resonate if you were male, black and gay is complete nonsense. I'm white, straight and female, and yet I found that I was so deeply able to connect with this story. It has a very specific focus, sure, but Moonlight is so much more than that. It is a coming of age story, a story about finding your place in the world, and the deep personal wrestling that comes with this turbulent time. One review described it as "timely and timeless" and I can't really put it much better than that. An absolute must-see if you haven't already!
La La Land
Read my full review here, and my other features here and here.
I mean, what else was I going to put here?! Whilst I am actually backing Moonlight to take home the Best Picture award on the night, I would of course be equally thrilled if the prize went to La La Land, and outside of the context of these awards, it is unquestionably my favourite film on this list. Again, I saw this one in October 2016 at LFF, and six more times after its wide release in 2017, and joked that it would be my favourite film of 2016 and 2017 because why not! I thought better of this though, but La La Land does still have the honour of being the newest addition to my all-time top 5 movies list, taking the number 5 spot. What else can I say about this film that I haven't already? La La Land is truly exceptional, celebrating love, dreams, and constantly reminding me of everything that I love about cinema. It is beautiful to look at, the songs are wonderful, it is exceptionally well crafted, and I firmly believe it will be considered as a classic by future generations. Honestly, I could talk about this film forever, and I fully plan to!